Purse Organizer Size Guide
The most common question ask by our customer is what size should I buy?
Purse organizers by Cloversac have been fitted into over 100 different brands and models of handbags. From popular brand such as Louis Vuitton, Celine, Longchamp, Hermes to unheard brands as well.

In the following photo gallery, you will find how some of the owners of CloverSac organizer are getting things organize in their handbags.
Purse Organizer Inserts by CloverSac are available in four sizes:
Grand 35 (Extra Large) – 13.5"L x 7"H x 5.8"W (34.5 cm x 18 cm x 14.5 cm)
Emma 28 (Most Popular Size) – 11"L x 6"H x 5"W (or 28.5 cm x 15.5 cm x 13 cm)
Emma 25 – 9.6"L x 5.9"H x 4.7"W (24.5 cm x 15 cm x 12 cm)
Emma 22 – 9"L x 5.5"H x 4.5"W (22 cm x 14 cm x 11.5 cm)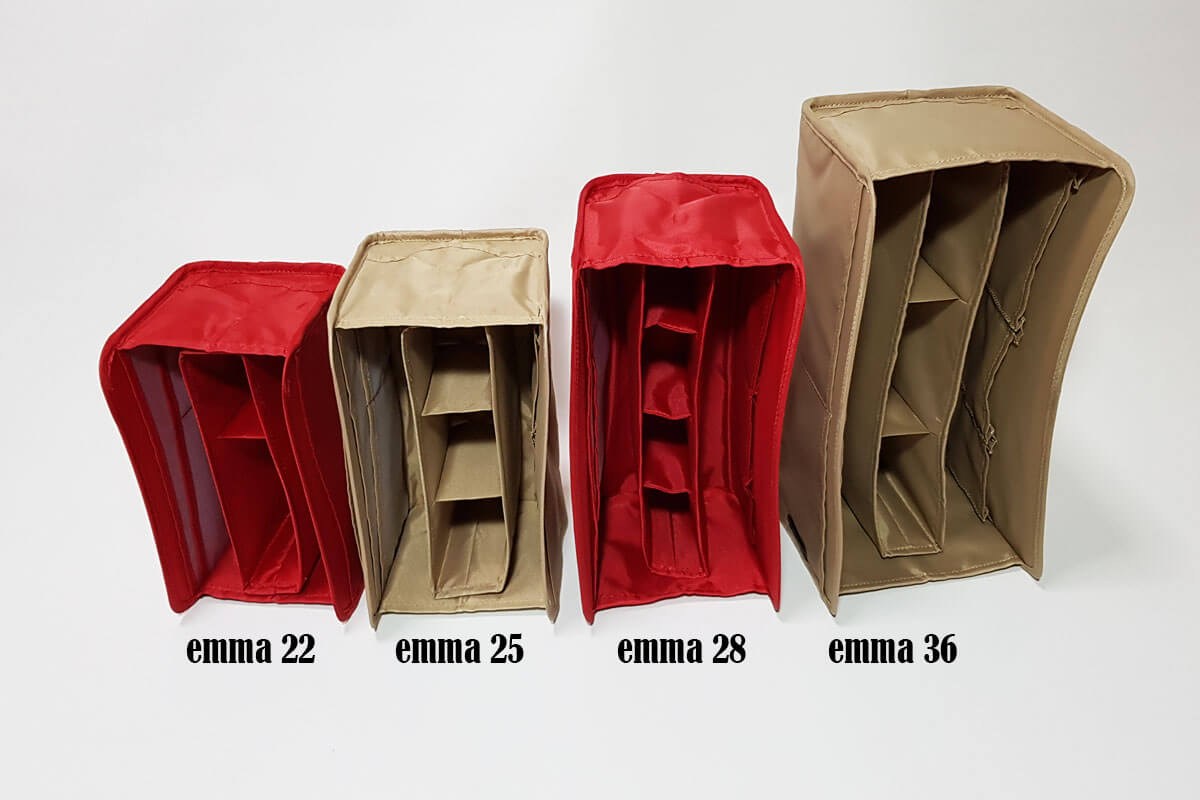 Following is our we measure L x H x W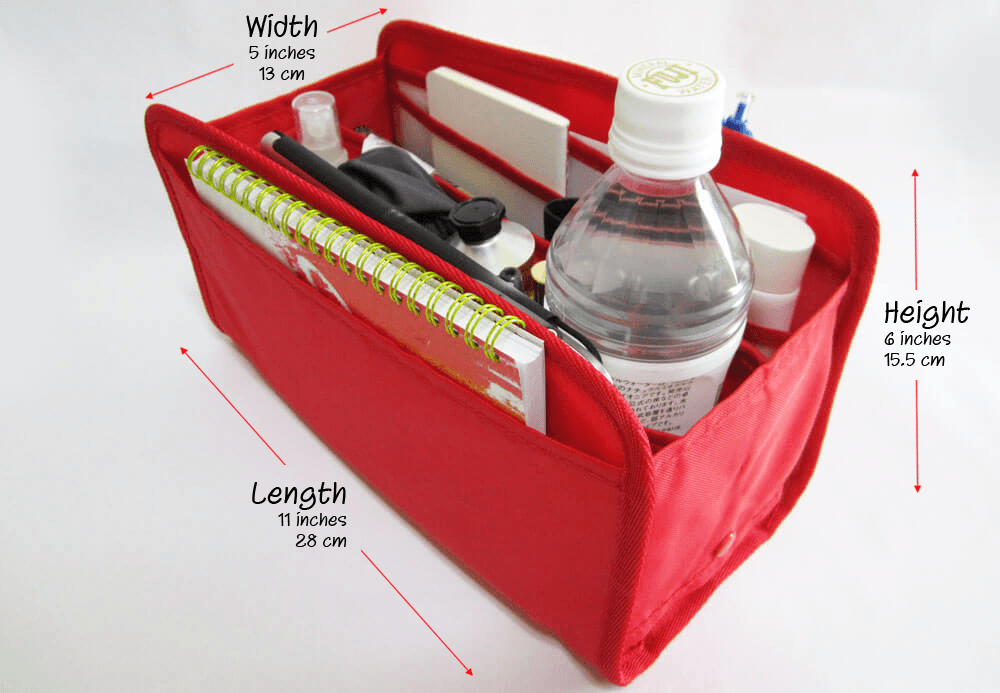 How do I choose which size to fit into my handbag?
Step 1 : First measure the internal length and width of your handbag. It is important to ensure the internal L and W is larger than the L and W of the organizer. For example if the internal length and width are 30 cm by 14 cm. The closest fit is Emma 28 as both the length and width are smaller (28 x 13 cm)
Step 2 : It is also good practise to consider the height of the organizer to ensure it does not affect the closure of the handbag.
Click below to view more photo for each of the following bag model when fitted with either purse organizer insert by CloverSac.
Please be informed that CloverSac does not make organizer to fit into any of the following handbags perfectly. Following are recommendations from our users and it only for your reference only. We do not endorsed the following recommendations as some users like it tight while other like it loose.
Handbags fitted with Grand 35
Louis Vuitton Delightfull GM, Speedy 30, Neverfull GM
Valentino Milano Tote Bag
Handbags fitted with Emma 28 (Most Popular)
Louis Vuitton Delightfull GM, Speedy 30, Neverfull MM
Hermes Birkin 35, Garden Party 36cm Tote,Garden Party Tote, Birkin 40, Lindy 34
Mulbery Regular sized Del Rey, Regular sized, Bayswater
Celine mini luggage, medium and large trapeze, medium luggage type,phantom large, phantom medium, cabas
Goyard St louis GM tote
Longchamp Le Pliage Large Shoulder Bag Black (1899 , 1632)
Rebecca minkoff shopper
Givenchy Tote Small
Michael Kors Jet Set Travel, Collins bag
Gucci GG Tote
Balenciaga Classic City
Burberry Tote bag
Handbags fitted with Emma 25
Most handbags fitted with Emma 22 can be fitted with Emma 25 as their sizes are pretty close. Some customers prefer a tighter fit while other prefer a looser fit.
Louis Vuitton Montorgueil PM Monty. Speedy 25
Hermes Birkin 30, Lindy 34
Celine small and medium trapeze, Micro Luggage (tight fit)
Longchamp Le Pliage (2605)
Prada Tessuto Saffiano
Hermes Lindy 30, Picotin MM
Handbags fitted with Emma 22
Louis Vuitton Speedy 25, Neverfull PM, Delightfull PM
Celine Small Trapeze, Micro Luggage (loose fit), Phantom Small
Kate Spade Diaper Bag
Mulberry Regular Sized, Small Del Rey, Mulberry Small Bayswater, Mulberry Small Willow
Givenchy Small Antigona
Longchamp Le Pliage (2605), Neo
Balenciaga City Bag
Prada Tessuto Saffiano
Hermes Lindy 30, Birkin 25, Picotin MM
View the fitting images below :
Louis Vuitton
Louis Vuitton Neverfull MM Monogram
Louis Vuitton Neverfull MM Damier
Louis Vuitton Neverfull MM Ebene Damier
Louis Vuitton Neverfull MM Azur Damier
Louis Vuitton Neverfull MM Monogram
Louis Vuitton Neverfull PM
Louis Vuitton Speedy 35
Louis Vuitton Speedy 30 Monogram Mini Lin
Louis Vuitton Monogram Canvas Retiro
Louis Vuitton Montorgueil PM Monty
Louis Vuitton Retiro
Louis Vuitton Speedy 30 Damier Ebene
Hermes
Hermes Lindy 30
Hermes Lindy 30
Hermes Lindy 34
Hermes Birkin 25
Hermes Birkin 30
Hermes Birkin 30
Hermes Birkin 35
Hermes Birkin 35
Hermes Soufre Herbag 39
Hermes Victoria II 35
Burberry
Burberry Tote
Balenciaga
Balenciaga City Bag in Red
Balenciaga Classic City in Silver Metallic Lambskin
Kate Spade
Kate Spade Diaper Bag
Longchamp
Longchamp Le Pliage Medium Long Handle 2605
Longchamp Le Pliage Large Long Handle 1899
Longchamp Le Pliage Large
Longchamp 1623 Le Pliage
Longchamp Le Pliage Large Tote Bag
Prada
Prada Tessuto Saffiano
Prada Saffiano
Celine
Celine Micro Luggage
Celine Medium in Bicolour in Calfskin Satin Trapeze
Celine Mini Luggage
Celine Phantom Cabas Medium
Celine Medium Trapeze in Tortora Drummed/Suede Calf Leather
Celine Gusset Cabas
Gucci
Gucci GG Tote
Michael Kors
Michael Kors Jet Set Travel
Michael Kors Collins
Givenchy
Givenchy Tote Small
Valentino
Valentino Milano
Rebecca Minkoff
Rebecca Minkoff Shopper